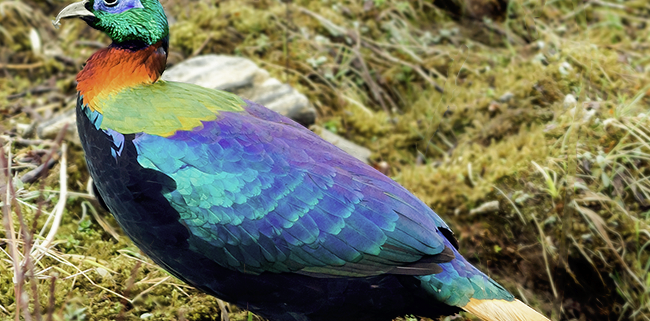 Many of Rainforest Trust's projects connect isolated habitat patches to reunite fragmented ecosystems. This connectivity promotes both wildlife population sustainability and landscape-scale conservation. But many projects also unite people from different communities, fostering cooperation and supporting conservation in cities, towns and villages near protected areas.
In Nepal, that process of connecting ecosystems and people couldn't be more apparent. Rainforest Trust's partner KTK-BELT is on a multi-year, multi-project mission to save habitat in a belt from the country's lowlands to the Himalayan highlands through community outreach and land protection. Together, the two organizations have already protected a lowland wetland hotspot and forests and alpine pastures in the highlands. They're also working on securing hundreds of thousands of acres in two new "community-protected landscapes," a new reserve category with joint community and government management.
Recently, KTK-BELT and Rainforest Trust completed land purchases covering 153 acres in the Tinjure-Milkhe-Jaljale (TMJ) forest. These purchases have helped prevent future road expansion and connected existing reserves to set the stage for protecting the larger landscape.
This area, within the Eastern Himalayan Biodiversity hotspot, is home to 832 flowering plant species, including 28 of the country's 32 rhododendron species. Thirty mammal species live here, including the Critically Endangered Chinese Pangolin and the Endangered Dhole, Red Panda and Himalayan Musk Deer. The TMJ area is also home to 274 bird species, including the Endangered Steppe Eagle.
In addition to protecting habitat, the purchased land will house one of KTK-BELT's six "learning grounds", which will focus on education about local flora and fauna. At these six sites, which will span the protected belt, the goal is to bring people together to think about conservation and work on climate- and biodiversity-sensitive methods of development. "We can — and should — support all of the conservation land purchases and declarations possible," said Rajeev Goyal, one of KTK-BELT's co-founders and co-directors.
"But the way to create lasting change is to alter people's attitudes and mindset towards nature, to make them understand the connection of their own wellbeing to the preservation of wild places."
That's why these learning centers are at the core of KTK-BELT's efforts. Protecting habitat from the lowlands to the Himalayas is vital to preserving Nepal's wildlife — but conservation strategies need to line up with local realities. As you might imagine, land use in a tropical, flat village looks very different from land use in a cold, alpine town. These learning grounds are part of a larger effort to give each community and region a sense of ownership over conservation.
Priyanka Bista, an architect and KTK-BELT's other co-founder and co-director, designed the building to accentuate the local landscape. Each site's programming and design will reflect the realities of that community and focus on their own, specific natural surroundings.
At one of these centers, KTK-BELT already hosts movie nights, environmental education programs for children and discussions on sustainable landscape planning. This work connects people from different communities to share ideas, knowledge and enthusiasm. In addition to localized programming, KTK-BELT is working on scaling this and other educational work into a "vertical university" to connect communities across the belt.
"The goal is to engage local rural youth to explore and understand how biodiversity and architecture can merge and intersect in powerful ways," said Priyanka.
"For too long, these fields have been siloed. Local people have deeply embedded knowledge about their own landscapes, accumulated over generations, of great value to design and conservation alike. The vertical university learning grounds aim to fortify, celebrate and share this knowledge, while embodying nature-friendly principles and standards that can be replicated in the villages connected by the vertical university."
"This project should inspire us all to think about how we can refocus conservation on communities," said Felicia Spector, Rainforest Trust's Asia Conservation Officer.
"KTK-BELT's outreach work reminds us that without people and enthusiasm, it's hard to make any lasting change."
Through this outreach work, Rainforest Trust and KTK-BELT are supporting a true sustainable future — one where conservation is led by the communities themselves.
The TMJ project was made possible through gifts to the Conservation Action Fund, with leadership gifts from Avaaz, Quick Response Biodiversity Fund, Biodiversity Consultancy and Michel Lidell. All donations were matched by SAVES Challenge.
Header photo: The Himalayan Monal. Photo courtesy of KTK-BELT.
https://legacy.rainforesttrust.org/wp-content/uploads/Himalayan-Monal.png
600
650
Rainforest Trust
https://legacy.rainforesttrust.org/wp-content/uploads/RT-horizontal-340pxW.png
Rainforest Trust
2020-06-11 15:30:48
2020-06-05 19:29:49
Connecting a Vertical Community for Conservation