More than 1,200 acres on Haiti's Massif de la Hotte received protected status through the creation of Grand Bois Nature Reserve, making this the first private nature reserve on the island nation. The nature reserve, a result of the combined efforts of the international conservation organizations Rainforest Trust and Global Wildlife Conservation (GWC) and their local partners Haiti National Trust (HNT) and Société Audubon Haiti (SAH), protects part of an amphibian diversity hotspot of global importance.
"Since Haiti is one of the most ecologically devastated countries in the world and the poorest nation in the Western Hemisphere, the establishment of the country's first private nature reserve is a critical, positive turning point," said Rainforest Trust CEO Dr. Paul Salaman. "In addition to being a haven for biodiversity, this mountain is also a vital watershed for surrounding communities, and its security will allow for the continued provision of fresh water, an incredibly vital resource to a nation that is still battling remnants of a horrific cholera outbreak."
Morne Grand Bois is found in Haiti's Massif de la Hotte mountain range, the number one priority conservation area in the country and one of the most important areas for amphibians in the world. Because 19 amphibians here are critically endangered, the Massif de la Hotte is a Key Biodiversity Area, which is an internationally identified region of global significance.
Grand Bois was first identified as a biodiversity hotspot in 2011 during an expedition led by Dr. S. Blair Hedges, Director of the Center for Biodiversity (Temple University) in collaboration with Philippe Bayard, President of SAH. This expedition documented three frog species new to science (likely to be listed as Critically Endangered once described) and led to the rediscovery of the Tiburon Stream Frog, which had last been recorded in 1985. This rare species of frog, now only known from Grand Bois, is unusual in that it made an evolutionary reversal back to an aquatic lifestyle after its ancestors evolved traits for living in the forest.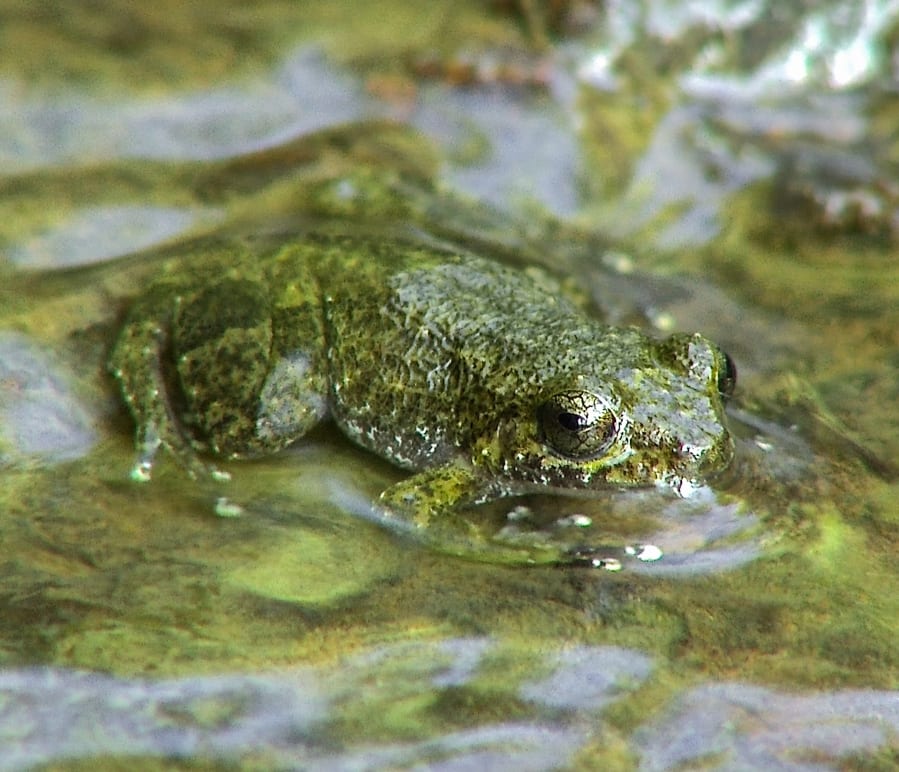 The rediscovered Tiburon Stream Frog. Photo by Haiti Audubon Society.
"We knew we needed to take action to protect the country's staggering diversity of unique and threatened species, many of which are found only in Haiti," said GWC Chief Scientist and CEO Wes Sechrest. "We have partnered with Haiti National Trust to directly protect, manage and restore this high-priority conservation site in an effort to begin to turn the tide of centuries of unregulated environmental destruction."
Despite its confirmed biodiversity value, Grand Bois had been subjected to logging pressure and slash-and-burn agricultural practices. Fortunately, over 50 percent of the original forest cover on the mountain is still intact above 1,000 meters elevation. In an effort to limit deforestation and preserve the remaining habitat, the government of Haiti declared Grand Bois a national park in 2015, but the land was privately owned and there were no funds allocated for actual protection. HNT and its partners, including Rainforest Trust and GWC, are working to raise support for a network of private nature reserves across Haiti.
"When I first landed on Grand Bois mountain with Professor Hedges, I immediately thought that a new strategy had to be found to protect this rich and important place from degradation," said Bayard. "This land hosts a rich biodiversity. It will never come back if we lose it."
https://legacy.rainforesttrust.org/wp-content/uploads/frog-haiti-News-banner.jpg
409
1415
Rainforest Trust
https://legacy.rainforesttrust.org/wp-content/uploads/RT-horizontal-340pxW.png
Rainforest Trust
2019-01-28 16:00:40
2019-01-29 16:32:04
Historic Conservation Action: Haiti's First Private Nature Reserve