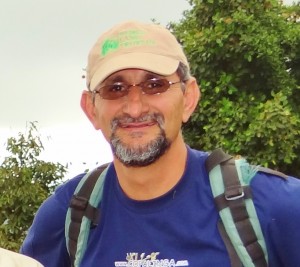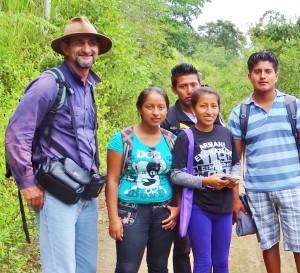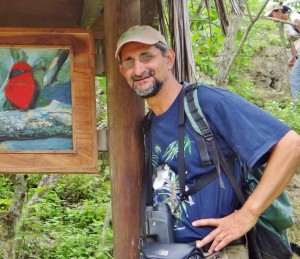 Rainforest Trust interviews Ecuadorian Conservationist Francisco Sornoza.

An ornithologist by training, Francisco Sornoza Molina, or "Pancho," as he is known among friends, is one of Ecuador's leading conservationists. He is also co-founder of Fundación Jocotoco, Rainforest Trust's Ecuadorian partner, and currently works as its conservation director. His passion to protect endangered species has taken him to the wildest corners of Ecuador where he has participated in and led scientific studies and conservation efforts for more than two decades.
 In the 1990's, Sornoza helped Rainforest Trust President, Dr. Robert Ridgely, conduct his groundbreaking study of Ecuador's birds. The time they spent together was to have a major impact on Ecuadorian conservation. Not only did it lead to the publication of Ridgely's pioneering guidebook, "Birds of Ecuador," but it also laid the groundwork for the creation of Fundación Jocotoco in 1998.
Fundación Jocotoco is based in the city of Quito, are you from there?
No, I am originally from Portoviejo, the capital of Ecuador's Manabí Province. It's located near Ecuador's Pacific Coast. Although it's a pretty big city, it's still famous for its towering trees. People call it the "City of the Royal Trees."
How did Fundación Jocotoco come into being?
Jocotoco was born with the idea of creating a foundation to protect and conserve threatened bird species. The idea arose from the fact that during the 80's and 90's we were constantly seeing areas deforested and valuable habitat lost. It felt like something had to be done. I discussed the idea originally with Robert Ridgely while he was working on "Birds of Ecuador," but it wasn't until later that our ideas really began to take shape. Robert and I discussed the idea with our friends, who were conservationists and ornithologists, too. We received the final push we needed when the Jocotoco Antipitta [an endangered bird species] was discovered, and from there we put our ideas into action and created Jocotoco.
How did your interest in conservation begin?
I started getting really serious about conservation in the 1990's. It was during this time that I had the chance to go back and revisit areas where I had done ornithological research previously. When I returned to those amazing places, I could barely recognize them: they were destroyed. The change was astonishing.
Why is conservation so important in Ecuador?
Ecuador is usually considered one of the most biodiverse countries in the world, and when you consider its small size it's all the more impressive. So, there's no doubt conservation is an important issue here.
The fact that we are so small and diverse comes with drawbacks, though. Our Environmental Ministry has a tough time meeting the all needs that come with trying to protect such diversity. It needs the support of organizations like ours to help guarantee the natural heritage of Ecuador.
You mentioned the impact of seeing areas deforested, what inspires you to keep working as a conservationist?
For me, the inspiration comes from an important goal. That goal is to form an environmental consciousness among Ecuadorians that is basically optimistic. We still have time to change paradigms, and by no means is everything lost. Waiting to see results takes time, but I will never run out of hope for the future.
How do you view the benefits of conservation?
The benefits of conservation, from my point of view, are infinite. To get an idea, just think about the two extremes of environmental stewardship. On the one hand, if things are managed poorly you can end up with a dry wasteland. On the other, you can take care of the earth and maintain natural systems. I sometimes define good stewardship by imagining its essence:  a river flowing harmoniously through rainforests. What a difference! That second image is full of life and is really inspiring.
What do you consider the greatest threats to natural areas in Ecuador?
Aside from huge fires or natural disasters, the principal threats to Ecuador's ecosystems – like others throughout the world – come not from one particular thing but arise from a lack of environmental conscience among the majority of world leaders. The lack of leadership on issues like climate change is already impacting Ecuador.
What benefits does Fundación Jocotoco receive from working in partnership with Rainforest Trust?
The assistance offered by Rainforest Trust to save and conserve important ecosystems in Ecuador has been extraordinary. Just look at the ten nature reserves created throughout the width and length of the country that protect Ecuador's biodiversity. And this has happened in a little more than a decade. The range of species we're protecting is impressive. If you were to add the diversity of the reserves together it would be comparable to some of the most diverse and rich national parks in the world like Yasuní National Park, here in Ecuador.
You mentioned Fundación Jocotoco has ten reserves, do you have a favorite among them?
Although it's hard to choose just one, I'd have to say my favorite is Tapichalaca. Of course, that's not to say the other reserves aren't spectacular, they are. But Tapichalaca is the place where the spectacular Jocotoco Antpitta – a huge inspiration for our organization – is protected. For me, that tips the scales in Tapichalaca's favor.
https://legacy.rainforesttrust.org/wp-content/uploads/rainforest1.jpg
672
1400
Rainforest Trust
https://legacy.rainforesttrust.org/wp-content/uploads/RT-horizontal-340pxW.png
Rainforest Trust
2013-09-06 20:37:44
2018-09-27 20:35:08
"Pancho" Sornoza: Conservation in Practice