Rainforest Trust's partner is honored for his conservation work in Panama by having a newly discovered species of snake named after him.
While most people spend their winter holiday searching for the perfect presents to convey their appreciation for those they admire, Rainforest Trust's partner Guido Berguido received a unique gift from his conservation peers: having a snake species new to science named after him. The Chucantí Centipede Snake, whose Latin name is Tantilla berguidoi, was described for the first time in Mesoamerican Herpetology by researchers Abel Batista, Konrad Mebert, Sebastian Lotzkat and Larry David Wilson. The scientists decided to name the species in honor of Berguido for his efforts to conserve Panama's vital habitats through the establishment of the nonprofit organization Asociación Adopta el Bosque Panamá (ADOPTA) and the creation of Cerro Chucantí Nature Reserve.
"We were astonished how [Cerro Chucantí Nature Reserve] has been built, and the effort that [Guido Berguido], his collaborators and sponsors have done to keep the forest around Chucantí [protected]," said Batista. "Guido has fought against farmers, poachers, and loggers to save the forest… Because of Guido's effort to save the forest around Chucantí, we have had the pleasure to name this new species of snake after him."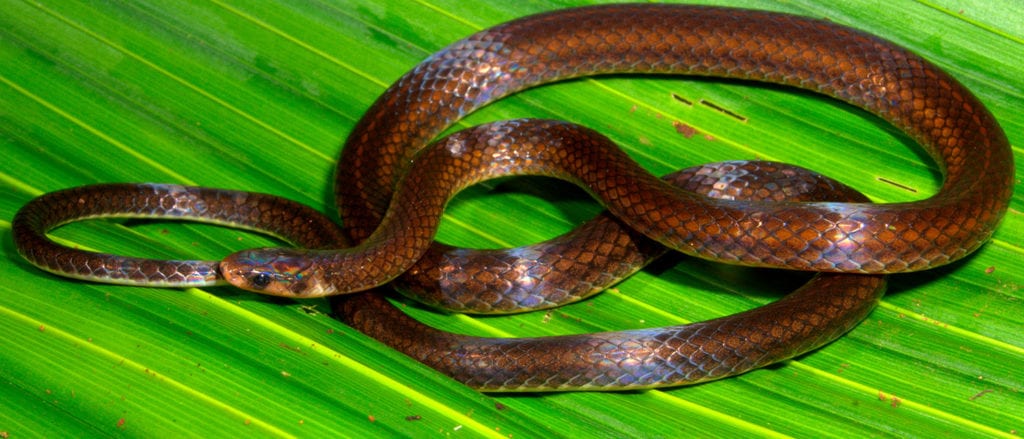 The recently described snake, Tantilla berguidoi, shares its name with conservationist Guido Berguido. Photo by Abel Batista.


ADOPTA's reserve safeguards a verdant swath of Cerro Chucantí, an isolated massif or "sky island" in eastern Panama that rises from sea level to 4,721 feet in elevation and sustains a biodiverse tropical forest ecosystem. The closest peaks with similar elevation and vegetation are found at least 90 miles away; the geographic isolation of the Cerro Chucantí mountaintop has allowed its flora and fauna to differentiate considerably, such that it contains a number of locally endemic rainforest species that reside exclusively on this massif.
"This site of Cerro Chucantí has turned out to be far more exceptional than we ever dreamed," said Berguido. "More than 20 new species of plants and animals have been found at this location that are found nowhere else on Earth."
Cerro Chucantí is home to many species new to science, and there is a high potential for more to be identified. The Chucantí Centipede Snake, which sports pale and dark brown stripes with a cream-colored underside, was discovered by scientists on leaf litter beside a trail southwest of the summit of Cerro Chucantí. Because it is known from only one forest formation and has a limited geographic distribution, it is likely to be categorized as Critically Endangered by the International Union for Conservation of Nature (IUCN). In 2008, the speckled Chucantí Salamander (Bolitoglossa chucantiensis) was discovered in this region, and a new frog species called Maje Dink Frog (Diasporus majeensis sp. nov.) was found in this area and formally described in 2016. There are still a few species of snakes, at least three frogs, one salamander and over a dozen species of ants awaiting formal description.
"Guido has incredible passion and drive, and he is devoted to making a positive difference to the people and wildlife that depend on this amazing area," said Rainforest Trust's Amphibian and Reptile Conservation Officer James Lewis. "It is great to see him being honored in such a way."
"The survival of Tantilla berguidoi really does depend on the work that Guido and ADOPTA are leading, and we are expecting to see great things happen in the coming years."
expand Cerro Chucantí Nature Reserve by 260 acres and protect additional sections of the massif from deforestation. As a gateway to over 60,000 acres of public lands, Cerro Chucantí Nature Reserve is laying the foundation for the designation of government protected areas, an effort ADOPTA is working hard to achieve with the support of Rainforest Trust.
https://legacy.rainforesttrust.org/wp-content/uploads/news-banner-tantilla-snake.jpg
409
1415
Rainforest Trust
https://legacy.rainforesttrust.org/wp-content/uploads/RT-horizontal-340pxW.png
Rainforest Trust
2017-02-13 00:00:12
2019-05-29 14:54:11
Sharing a Surname with a Singular Snake Species