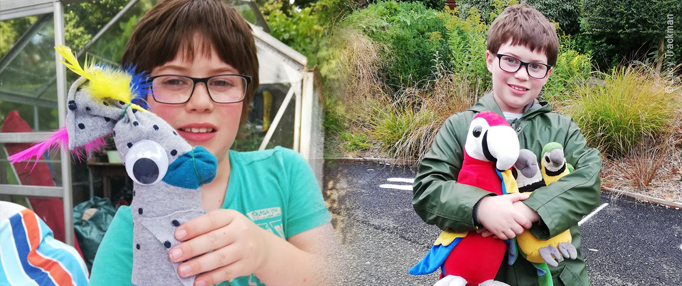 When the COVID-19 pandemic started, many were unsure about what to do and how to be helpful. William Jordan, a young student from the Isle of Wight in England, was wondering this himself when he found motivation to help our planet in an unconventional way.
During the quarantine, while working on a school project, William was inspired. "I had an English assignment to write about a video where clothes came to life in the washing machine," said William. "This gave me an idea––I said to my mum I wanted to make a fish sock puppet, so we cleared out our old socks and I made 31!"
Living on an island, William has long been inspired by sea life and even helps clean local beaches. To take his support a step further, he began making aquatic-themed sock puppets on the weekends and selling them to donate his profits to an ocean charity. But his craft has also helped him make a difference in habitats beyond the sea.
He was recently challenged by Rainforest Trust UK to create a sock puppet of a parrot, and enjoyed it so much he has started making them regularly as well. The proceeds from his parrot sock puppets have gone towards our work to save the Blue-throated Macaw in Bolivia. "I love parrots – they are my favorite animal and I wanted to help them in the wild," said William. "I was shocked when I heard the Blue-throated Macaw was in danger of extinction and I really wanted to help them."
To get the word out about his projects, William's mom helped him set up a webpage so he can receive donations and continue raising money for the environmental organizations he is most passionate about.
Rainforest Trust is honored to have William's support. In the future, he plans to continue his work saving species and contributing to conservation efforts around the world. "Conservation is important to me because I've always wanted to help out and this is a way I can," said William. "These species deserve to be here. I am proud to be helping them stay here. When I grow up I want to be able to see animals like parrots free and happy."
https://legacy.rainforesttrust.org/wp-content/uploads/Sock-Puppets-September-2020.jpg
286
682
Madison Lemelin
https://legacy.rainforesttrust.org/wp-content/uploads/RT-horizontal-340pxW.png
Madison Lemelin
2020-09-17 13:58:47
2020-09-18 14:31:34
Supporter Spotlight: Sock Puppets for Conservation