Nearly one acre of forest is lost every second
37M+ ACRES SAVED
Thanks to generous support from our donors, we have successfully reached our fundraising goal for this project!
Save Disappearing Rainforest in Brazil
Northeastern Brazil's Baturite rainforest and isolated Baturite mountain has stood on the planet for over 200,000 years, and is slowly disappearing. Throughout the years, this ancient rainforest–– a blend of Amazon Rainforest and Brazilian Atlantic forest––has gained popularity as a tourist destination, which has brought unsustainable development for vacation homes and condos, clearing this ancient forest almost completely.
Resident species are forced to survive in the remaining forest fragments, which continue to dwindle. One of the most notable is the rainforest's flagship species––the endemic and Endangered Grey-breasted Parakeet. Header Photo: Grey-breasted Parakeets, by Fabio Nunes.
SPECIES
Grey-breasted Parakeet (EN); Northern Tiger Cat (VU)

(EN)=Endangered, (VU)=Vulnerable
ACRES PRESERVED BY
Purchase
CARBON STORAGE
3,814 mT*
*(metric tonnes of CO2 equivalents)
Protect the Grey-breasted Parakeet
The only viable population of the Grey-breasted Parakeet dwells in the mountainous rainforest, after it was wiped out from the surrounding lowlands.
To save the species, Rainforest Trust's local partner Aquasis, established the 96.64-acre Grey-breasted Parakeet Wildlife Refuge where they fledged 19 chicks from nest boxes in the last year, representing roughly 3% of the global population.
Now, as unsustainable development and expanding agriculture continue to close in on the Baturite rainforest our two organizations are working together to expand the reserve by 37 acres, creating a protected rainforest of 133.6 acres.
Provide Hope for New Species
Your gift will provide the last refuge for almost the entire population of the Grey-breasted parakeet and many new species (many still to be declared), and subspecies that have evolved in isolation.
This expansion will also help to bolster protection for this extremely rare ecosystem filled with recently evolved species, as well as species from both the Amazon and Northeastern Brazilian Atlantic rainforest. Photos: (Above) Brazilian Rainforest, by Rainforest Trust; (Below) Northern Tiger Cat, by Tambako the Jaguar/Flickr.
Project Location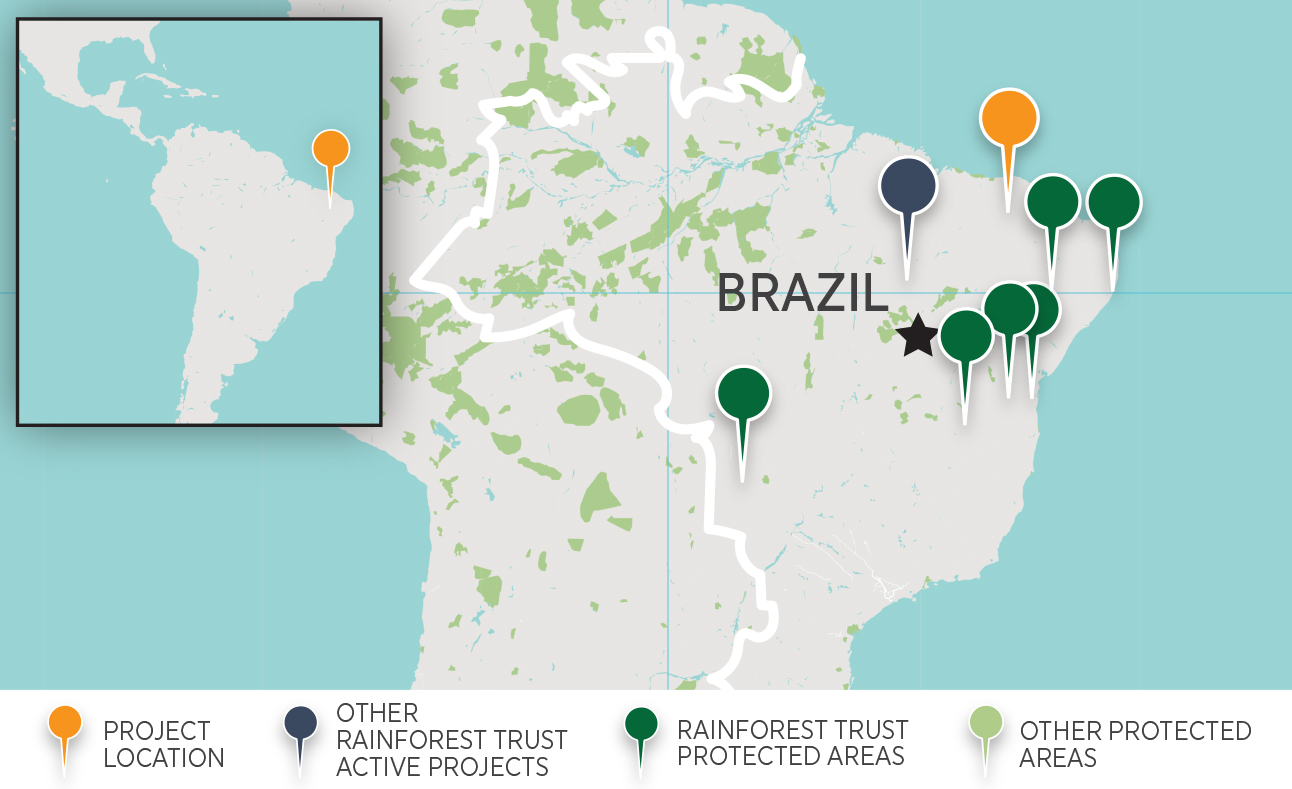 ---
Learn More About This and Other Related Projects: